Oh how we love our Christmas traditions! Everything from putting up Christmas lights and the tree, making cookies and candy, caroling with family and friends, thoughtfully shopping for the perfect gifts and perfectly wrapping each and every one! But there is one tradition that day's back quite far that many do not know how it truly became one of our beloved traditions today. That is of the Christmas Poinsettia.
Poinsettias have long been associated with Christmas, but how did that come about? The plant itself was named for the first U.S. Ambassador to Mexico, Dr. Joel Roberts Poinsett, who introduced it to America in 1828 after discovering it in Southern Mexico. Dr. Poinsett dabbled a bit in botany himself, in between his official duties of course, and sent some clippings back to his home state of South Carolina. The Poinsettia didn't really gain any steam until the 20th century when it really became a holiday mainstay and had a national day named for it…December 12th.
But what does the Poinsettia have to do with Christmas? Back in the 1600s Franciscan Priests were the first to use this beautiful plant to adorn nativity scenes in Southern Mexico. But legend has two interpretations that are beautiful and carried on today. The first is of a poor Mexican girl named Pepita, who could only offer a small bouquet of weeds to Jesus as a gift on Christmas Eve. When she brought the bouquet of weeds into the church and laid them in the manger, they blossomed into beautiful red plants we know as Poinsettias- also known as Flores de Noche Buena in Mexico (Spanish for "flowers of the holy night"). The other interpretation is that the plant is a symbol of the Star of Bethlehem because of the shape of its leaves- the heavenly body that led the 3 wise men to the manger where Jesus was born. The bright red leaves symbolize the blood of Christ, and the white leaves represent his purity.
The Poinsettia's in all their beauty are a gorgeous addition to all Christmas décor' and are a symbol of the faith and hope for today and what the future will bring.

Wishing you all a blessed Christmas season.
HOT PROPERTY OF THE WEEK!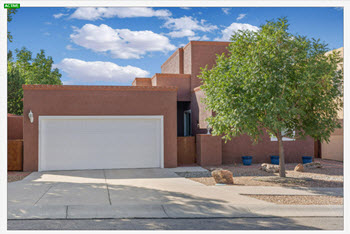 4100 SKYVIEW CREST ROAD NW, ALBUQUERQUE, NEW MEXICO
Price reflects $248,000 in upgrades in the past 7 months! Seller has invested in upgrading & improving this home with the best of the best. This property is exclusive and exquisite. Upgrades include: New (TPO ROOF) 50 year industrial grade 80mil TPO Carlise Syntec roof system. New (PAID SOLAR) 30 year low profile solar array not visible from ground level provides enough energy to waive off future energy bills — $4000 to $5000 annual savings. New (SWIM SPA) premier Marque aquatic training vessel for endless swimming with a number of other aquatic fitness features. New (HOT TUB) premier Marque seven seat therapeutic spa. See MLS Features & Updates List for a full list of many more updates. 3 minutes from Intel & easy access to shopping, restaurants, schools, and major thoroughfare.
Contact us today to help you buy or sell your next home in Albuquerque. Looking for the perfect home for sale in Albuquerque? Our easy-to-use home search tool can help you start the process. Join us twice a week on our blog for more real estate advice and great reasons to buy a home in Albuquerque and the surrounding area. Follow us on Facebook for the latest Albuquerque real estate updates.